March 2022, New York, NY - 1Q Highlights - Seaport's industry leading Event Driven Desk hosted a meeting in March with a former chief economist and more than 50 event driven clients on Microsoft's announced acquisition of Activision. This $70 billion transaction proposes to bring a leading provider of AAA game content under the Xbox umbrella, potentially making the popular Call of Duty franchise exclusive to Xbox/PC. The transaction is being reviewed by the DOJ and received a 2nd request in March. If challenged in the US, the litigation will likely be fought around the sort of VGUPPI model reviewed in Seaport's investor meeting.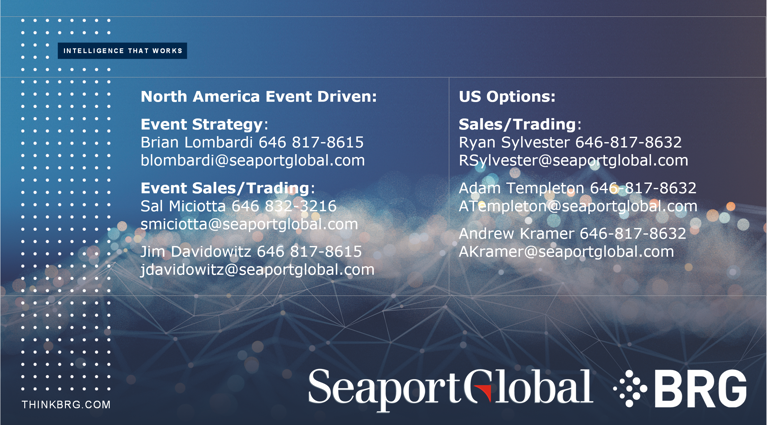 Guest: Dr. Frederick R. (Rick) Warren-Boulton – Dr Boulton is an internationally recognized economics expert in the fields of antitrust and industrial organization, particularly in the economics of vertical restraints, mergers, price fixing, exclusion, and monopolization, and has testified and published extensively on those issues. Dr. Warren-Boulton served for six years as chief economist of the Antitrust Division of the US Department of Justice (DOJ). He is a former associate professor of economics at Washington University (St. Louis), a visiting lecturer at Princeton University, a resident scholar at the American Enterprise Institute, and a research professor of psychology at American University. Dr. Warren-Boulton has served as the testifying expert for private parties and for various government agencies on landmark monopolization cases.
About Seaport Global
Seaport Global Holdings LLC is a leading capital markets firm, providing robust sales, trading and research services and the resources of a full-service investment bank. Seaport Global combines its extensive knowledge, solid relationships and deep distribution platform to serve its clients' most unique business requirements. The firm is headquartered in New York with offices across the US and Europe. Visit www.seaportglobal.com to learn more.